A New High:
Solitude Liveaboards redefines quality service and professionalism in diving hospitality. Recently refurbished, flagship MV Solitude One incorporates the latest on‐board technologies for safety and diving, whilst on board crew pamper to your senses and indulgence.
Origins:
Originally rebuilt from a 52metre (171ft) steel hulled merchant vessel, MV Solitude One underwent a complete makeover from her initial form to define new standards in hospitality and diving. With clients' comfort in mind, she was purpose‐built to incorporate smart designs, functionality and comforts close to home, with the ever subtle touch of luxury.
Solitude Liveaboard's definition of luxury begins with its design, creating purposeful and functional spaces for rest and play. Her dive deck and boat deck space can also be easily modified to reconfigure for major exploration expeditions, while still providing the exploration team members the luxury of modern home comforts.
Every guest on board will be cared for by well‐trained staff who address guests by name, anticipate individual needs, and appear only when needed, allowing them the privacy of "a home away from home".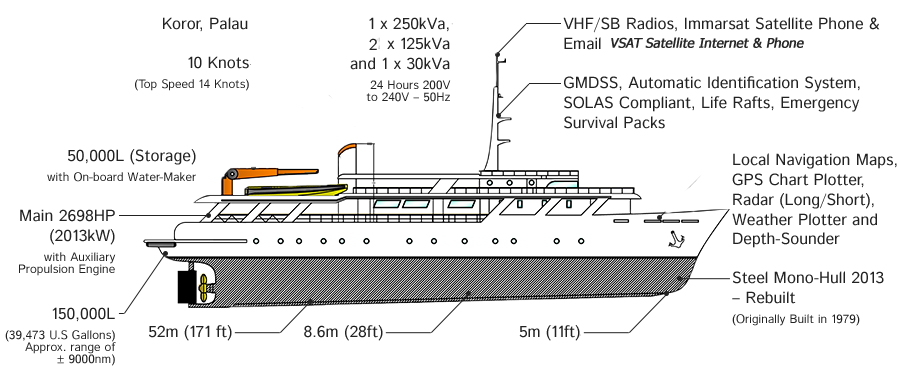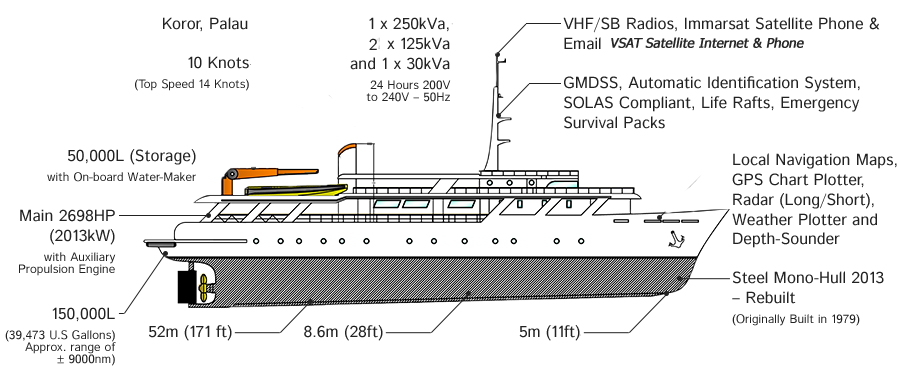 VESSEL LAYOUT MAIN DECK
Master Stateroom (Double Sharing only): A1
Master Stateroom (Twin Sharing Only): A2

LOWER LAYOUT LOWER DECK
Master Stateroom (Double Sharing only): B6
Deluxe (Double Sharing Only): B1 & B2
Deluxe (Twin or Double Sharing *Bunk Beds): B3, B5 & B7
Deluxe Twin: B4 (Twin Sharing *Bunk Beds)
Standard Quad: B8 (2 Bunk Beds + 2 Single Beds)


Diving and Safety
Paying much attention to detail, the dive deck was conceptualized by divers with a combined experience of over 100 years. with space enough to accommodate 30 divers, tank racks, storage boxes, camera basins and equipment storage were all fit in with practical, smart designs.
SAFETY ETHOS, MEDICAL OXYGEN AND FIRST AID KITS
Safety is paramount in Solitude's operations. Besides equipping our vessel to be compliant with GMDSS with Automatic Identification System (AIS), our crew are constantly trained to meet the international marine insurers surveyors standards to execute all the required emergency and non emergency procedures. Our Diving Skiffs are also equipped with First Aid Kits and Medical Oxygen (when used for SCUBA activities). In addition, we carry additional supplies of both on board Solitude One. Our Skiffs are also high powered which are capable of hitting high speeds if the need arises to quickly evacuate to the nearest medical and/or hyperbaric chamber if we are close to one instead of waiting for evacuation assistance (air or sea).
DIVE SKIFFS
PALAU
2 x 11.5m (37ft) Fiberglass Purpose-Built Boats (one with Twin 200HP and the other Twin 150HP 4-stroke Outboard Engines)
PALAU, PHILIPPINES and Ocean Crossings
2 x 7.9m (26ft) Fiberglass Purpose-Built Boats (Each with 150HP 4-stroke Outboard Engines)
SUPPORT SKIFF
1 x 8.3m (27ft) Fiberglass Monohull with single 60HP 4-Stroke Engine
AIR COMPRESSORS
3 x Bauer HP Compressor IK120 with Bauer B-Kool 680-s Air Cooler Filtered by P41 Centralized System
NITROX MEMBRANE SYSTEM
LP450 Nitrox Membrane (with redundant LP-Screw compressor)
ENRICHED AIR NITROX DIVING
EANx 28 to 30% Only (This is to provide a more suitable M.O.D for dive sites)
EANitrox: US $8 per cylinder per diving day (whole cruise use rate available, please inquire).
SCUBA CYLINDERS
Aluminium 100cuft (19units), 80cuft (80 units), 63cuft (4 units), 40cuft (12 units) & 19cuft (4 units) with DIN Valves (Yoke
Adapters available) - Twin Tanks Not Available, Side-Mount Friendly Solo Diving not allowed (even if certified)
REBREATHER SUPPORT OR SIDE MOUNT DIVING
Rebreather Support is only on Full Charters with Rebreather Divers. Scrubbers can be organised with advanced notice (preferably 60 days or more) but no guarantee or your can order and send it to us. Oxygen supply in Palau is limited as well and expensive
Side-Mount Diving is supported. However we have only the standard Left-Hand Valve. If require additional scuba tank (for twin side-mount), here are the additional charges:
Additional 12L/80cuft cylinder with air: US $10 per cylinder per diving day. Additional 12L/80cuft cylinder with EANitrox: US $8 per cylinder per diving day (whole cruise use rate available).
Equipment Rental and Other Extras
EQUIPMENT
1 DAY
5 DAY
7 DAY
10 DAY
Full Set BCD, Regulator, Wetsuit, Dive Computers, Fins, Booties, Masks, Snorkel
40
160
200
360
BCD/ Regulator/ Dive Computer
25
100
125
225
BCD
10
40
50
90
Regulator
10
40
50
90
Dive Computer
10
40
50
90
Fins with Booties
5
20
30
45
Mask & Snorkel
5
20
30
45
Wetsuit (Long)
10
40
50
90
Underwater Torch
8
32
40
72
Nautilus Lifeline
Complimentary
Reef Hook
Complimentary
Surface Market Bouy
Complimentary
** Rentors/Users of all Solitude scuba and skin diving equipment, including those on complimentary basis ishall assume
responsibility to pay the replacement cost in the event of breaking or using the equipment.
USE OF NAUTILUS LIFELINE AIS
Available to use if required/requested. Complimentary.
DIVE GUIDES Ratio 1 to 6 Divers (Private Guide Service available** 150USD per Diving Day)
SURFACE MARKER BUOY (SMB), LEAD WEIGHTS & BELT
Complimentary
AVAILABLE FOR PURCHASE ON-BOARD Surface Marker Buoy (OPV, SOLAS Reflector), Nautilus Lifeline GPS/VHF Radio (with Pouch), Spools, Dive Pointers, Drift Hooks,
O-rings, Hoses and other common replaceable spares.
Medical Oxygen and comprehensive First Aid Kits are ALWAYS Available
INSIDE SOLITUDE LIVEABOARDS
HOSPITALITY
Home to the hub of diving activities, the main deck houses the all important dive deck, media library, a couple accommodation, and a lounge. Taking a step further in creating more relaxing enclaves, the Upper and sun deck up to Al Fresco dining and deck chillout spaces.
INSIDE SOLITUDE LIVEABOARDS
INDOOR LOUNGE
Designed both for social interaction and private reflection, our lounge immediately sets you at ease with its deck colour scheme. From its very inviting bean bags beckoning you to sink into them with a good book to the plush sofas to play card and board games with your pals, this will be a great area to come to between dives and after dinner.
INSIDE SOLITUDE LIVEABOARDS
THE SUN DECK
For all the sun lovers, the sprawling deck pulls out all the stops with all kinds of ways for you to enjoy soaking up some vitamin D. Half the deck is swathed in shade for those of you who prefer fresh sea air under some UV protection. The deck is also great for watching out for dancing dolphins and breaching mantas or hanging out in the evenings to look at constellations in the night sky. On specified trips, a massage therapist can work your cares away on the open deck. It'll just be like your own private resort, surrounded by clear blue waters, mushroom islands and your personal reflections.
INSIDE SOLITUDE LIVEABOARDS
DINING AL FRESCO
The way to anyone's heart is through his stomach. Taking a loot of pride in the designs of a proper kitchen, choice of ingredients and the types of treats that we offer between meals and dives, you'll always be spoiled for choice. Meals are carefully planned and constructed to make sure all palates are taken into consideration. Great pride goes into the preparation of these meals and special diets are attended to, so we can look after you well. We make sure our pantry is well stocked, a wide selection of beverages at your disposal, and there will always be something for the peckish, even in the wee hours of the morning, the bar serves a good selection of spirits, wines and beer, readily available to you at an additional cost.
HOSPITALITY
READING LIBRARY
with a Loan & Exchange Program
ENTERTAINMENT
In-Room and lounge play-on-demand Audio-Video system with Entertainment Library, Card and Board Games
TYPE OF COFFEE AVAILABLE
Fully Automatic (self-service) pressed coffee machine, local and instant coffee
TYPE OF TEA AVAILABLE
Ceylon, Chamomile, Green and Chinese
DRINKING WATER
Free Flow from Reverse Osmosis Water Dispenser
ALCOHOL BEVERAGES**
Beer, Red/White/Rose Wine, popular liquors (BYO Policy: no corkage charge)
NON-ALCOHOL BEVERAGES
Popular selections including light and zero options (if type available)
SELF-SERVE SNACKS & MUNCHIES
Available 24 hours
ICE MAKER
Available
SPECIAL DIETARY REQUESTS
We can accommodate vegetarian and selective non-meat diets. Vegans will require advanced notice with a specific list of allowable ingredients for their meal preparation
SOLITUDE SOUVENIRS & APPARELS**
Solitude One apparels are still in progress however, local souvenirs can be purchased when we take you to the local shopping mall.
ON-BOARD GUESTS SERVICES**
Satellite Internet and Laundry
**Additional Cost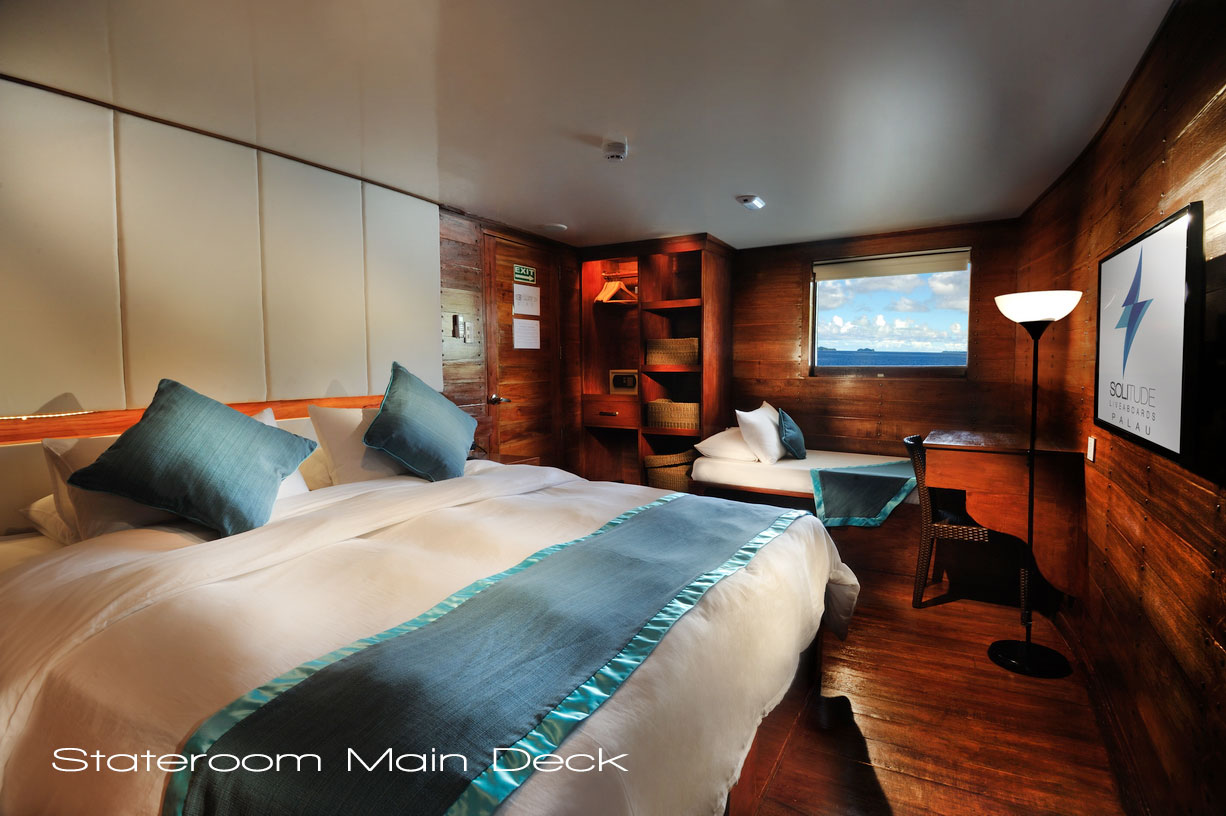 Stateroom
STATEROOM: King Sharing Only (2 cabins)
LOCATION & SIZE: 19.2 sqm (Main Deck A1) / 17.8sqm (Lower Deck B6)
STATEROOM:  Twin Sharing Only (1 cabin)
LOCATION & SIZE: 14.7sqm (Main Deck A2)
ACCOMMODATES: 2 Maximum Each Cabin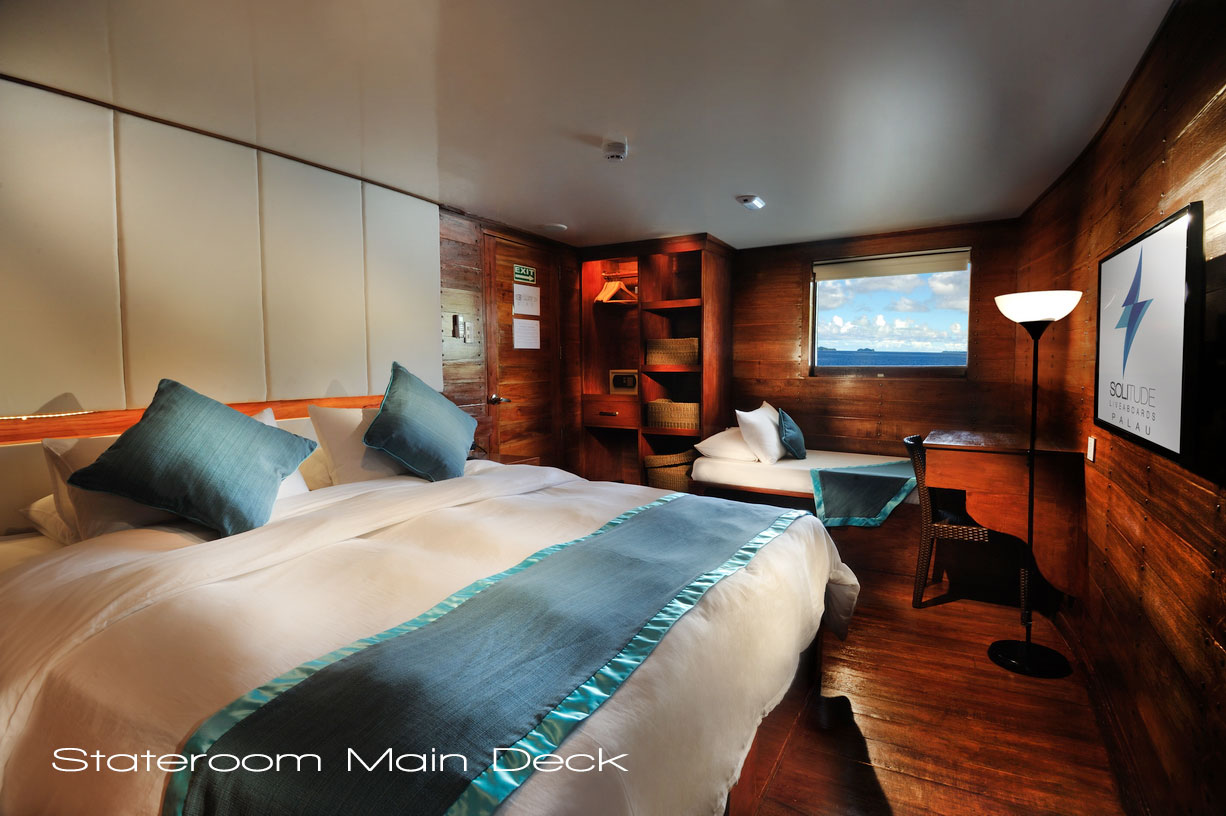 Deluxe Cabins
DELUXE CABINS (MAX 2 PAX EACH CABIN):
1) Twin Sharing (1 cabin)
LOCATION & SIZE:
Bunk bed, 10.5sqm (Lower Deck B4)
2) Twin/Double Share (3 cabins)
LOCATION & SIZE: 11.7sqm (Lower Deck B3 / B5 / B7)
3) Double Sharing (2 cabins)
LOCATION & SIZE: 11.7sqm (Lower Deck B1 / B2)
Quad Sharing
CABIN: Quad Sharing (1 cabin)
ACCOMMODATES: 4 Maximum
CONFIGURATION: 2 bunk beds, 2 single beds
LOCATION & SIZE: 23.7 sqm (Lower Deck B8)
REJUVENATE
Solitude One has a total of 10 cabins that can accommodate a maximum capacity of 22 Guests. Paying close attention to detail, the cabins were conceptualised from experience, common sense, feedback from guests, incorporating essential elements from the hospitality world and being very aware of what discerning divers need and want, and then designing them with taste and practicality.
For our taller guests, they will be pleased to know that our headroom is adequate in most guests' areas and the length of all our mattresses in every cabin category are 199cm (6.5ft).
REJUVENATE
The comforts provided in all cabins have:
- Individual Air Conditioning System with Climate Control
- Safe Deposit Box (additional can be provided if sharing is not appropriate)
- Bath Robes
- Face and Bath towels
- Hair Dryer
- Reading Light
- Shower Foam, Shampoo (2-in-1)
- Pillows (Extra pillows available)
- Duvet (lighter blankets available)
- Ample Hangers & Wardrobe Organisers
- Electrical Points conveniently located for gadgets
The cabin en-suite shower and toilets are designed for the modern-day user. Although the size varies depending on cabin category, even the most compact will have adequate room and shelving. They are all equipped with the following:
- Hot & Cold Water
- Manual Bidet Spray
- Seated Water Closet (WC)
- Separate Shower
- Ample space for your own toiletries
- Ample Robe Hooks
10 CABINS IN TOTAL
3 Staterooms (King-Sharing), 6 Deluxe Cabins (4 x Twin or Double-Sharing, 2 x Double-Sharing and 1 x Twin-Sharing, Bunk Bed style) and 1 Standard Quad/Family Cabin (2 x Twin Beds & 2 Twin Bunk Beds)
MATTRESS SIZES
King Mattresses 183cm (6ft) x 199cm (6.5ft), Queen 153cm (5ft) x 199cm (6.5ft), Twin/Single Mattresses 92cm (3ft) x 199cm (6.5ft)
SHOWER/WC ROOM
All cabins and stateroom have en-suite shower (hot & cold) and WC (Common Water-Flush System)
Housekeeping Practice
Cabins are cleaned daily. Sheets, bath and face towels are changed every 3 days of use. However, please feel free to request a change at any time when necessary.
CAMERAS & GADGETS
THE DIGITAL "DARKROOM" AND MEDIA LIBRARY
More a necessity now than just an after thought, the digital darkroom was given as much consideration in the overall design of the vessel. Occupying premium space on the 'A' deck and placed adjacent to the Lounge, the space is purposebuilt for safely stowing camera and video equipment, for prepping, charging batteries and working on. Computer terminals are available if you want to leave your laptop at home and a library of carefully selected periodicals and books will give you all the intellectual stimulation you need.
CAMERAS & GADGETS
LARGE CAMERA RINSING TANK
1 VERY Large Rinse Tanks and Towels just for Cameras (A Separate Large Tank for Diving Equipment)
PRESSURISED AIR FOR DRYING
Available
CAMERA SETUP BENCH ON DIVE DECK
Available
DIGITAL/CAMERA STUDIO
2 PC Desktop stations for guest use
UNIVERSAL POWER SOCKET WITH USB (1A) CHARGING
Available in guest cabins and in Digital/Camera Studio
POWER TYPE
200V-220V/50Hz
SURGE PROTECTION AND UPS SOCKETS
Only in Digital Room
ELECTRICAL PLUG ADAPTERS AND EXTENSIONS
Available
E6 PHOTO PROCESSING
Not Available